The Retiree Activities Office is the focal point for the Retirees Program at McChord Field.
The mission of the Retiree Activities Office is to provide a continuous update of information helpful to the Air Force retirees who reside in our assigned area of responsibility. Further, to mobilize retirees and provide volunteer assistance to active duty organizations that require such help. To also provide assistance to those retirees in need by staffing a Retiree Activities Office with volunteer retirees who are capable of responding to questions posed by retirees and their dependents on a daily basis.
37th Annual McChord Retiree Heritage Dinner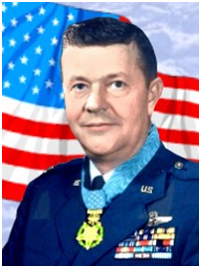 Col. Joe Jackson Guest Speaker MOH
The 37th Annual McChord RAO Heritage Dinner will be held on 16 May 2015 at the McChord Field Collocated Clubs. A no-host social hour begins at 6:30 p.m. and dinner seating at 7:15.
This year's theme is honoring Viet Nam era veterans. The informal dinner features military ceremonials, interesting and historical displays, door prizes and much camaraderie.
All military, active duty and retired, from all branches of the services, their family and friends are invited. For more information call the RAO at 253 982-3214
Click Here for the Dinner Reservation Form.
Retiree Appreciation Day (RAD)
is scheduled for 15 May 2015
from 0730 - 1300 hours (7:30 am - 1:00 pm)
American Lake Conference Center (ALCC) Building P8085
Joint Base Lewis-McChord-North (JBLM-North)
If you are planning to attend please review the following documents.

Registration Form (Word) Registration Form (.pdf)
Breakfast and Luncheon Menu (Word) Breakfast and Luncheon Menu (.pdf)